Sony R510C 40-Inch Full HD 1080p Smart LED TV
Price: $438.00
Instant Savings (ends 01/21/17):–$40.00
$398.00
Visit the Sony website to purchase.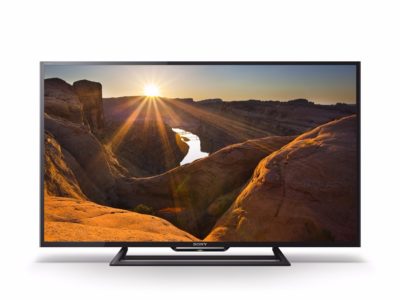 PRODUCT HIGHLIGHTS
40″ Diagonal

Full HD 1080p (1920×1080) Resolution

Edge LED Backlight

Motionflow XR 100Hz – for Fast-Moving Action

Slim Design – for Easy Wall Mounting

Wireless Entertainment w/ Built-in Wi-Fi

Photo Sharing

Screen Mirroring

USB Playback – Video, Music & Images

Highlights
The Sony R510C exhibits incredible picture quality provides top-of-the-line entertainment.  An elegant, beautiful, slim design offers full HD 1080p for excellent detail and Edge LED backlighting for a boost in contrast.  Easy to use, built in Wi-Fi allows you to stream HD videos from Netflix, YouTube and more.
Media Features
Sony R510C 40-Inch Full HD 1080p Smart LED TV (2015 Model) – KDL40R510C
This a great option for someone looking for a TV with great picture, excellent low-light contrast, with the ability to easily stream media.  Son'ys Edge LED backlighting technology will enhance viewing in direct daylight, and the MotionFlow XR technology helps to eliminate fast-motion blur in action movies or sporting events. This TV has 2 HDMI inputs, with 1 composite/component input, 2 USB inputs, and 1 Ethernet port.
Full HD 1080p
With 2x the clarity of a standard HDTV, Full HD 1080p allows you to take advantage of the excellent picture of Blu-Ray discs, HD sports TV channels, and streaming videos. Full 1080p contains 2,073,600 pixels per individual image which is twice as many pixels as standard 720p HD content. The 1080p resolution delivers the sharpest image with vibrant colors and exceptional detail
Clearly different
In addition to Full 1080p, the Sony R510C offers it's Clear Resolution Enhancer picture engine, reducing picture noise so that images appear more crisp, with greater on-screen depth.  You can enjoy greater details and textures with this TV. Sony's Edge LED Backlight technology delivers incredible contrast with rich colors and enhanced dark-scene detail.  Watch movies or shows in low-light or dark rooms without compromising on picture detail.  The powerful-yet-thin LED boasts a much brighter picture than conventional LCD TVs.
HD wireless streaming
Another great feature is the built in WiFi gives you the ability to easily stream HD videos from services like Amazon, Hulu and Netflix. Built in WiFi means that you can stream content from Netflix, Amazon Prime Video and YouTube in full 1080p high definition upon set up.
Life-like movement
Most notably, Sony has recreated the movement of real life. Watching sports on this TV will be like nothing ever before.  MotionFlow XR Technology minimizes blur, so watching sprinters accelerate will be like watching from the stands.  Sony's Motionflow XR technology creates and inserts extra frames between existing ones to reduce or eliminate blur that can occur when viewing programs with fast-moving images. It can also insert black frames in between frames to create an experience similar to that of watching a 35mm film in the theater. This results in a smoother, more natural viewing experience.
Clear Resolution Enhancer
Additionally, the Sony R510C can upscale low resolution images to near-1080p resolution so you can enjoy DVDs and standard quality images with detail and contrast.
Miracast Screen Mirroring Technology
Sony's Miracast technology gives you the ability to easily pair your TV with compatible smartphones or tablets so you can stream pictures, music, video and your favorite apps to your TV.
Super Multi-format USB Play
Finally, the Sony R510C features 2 USB inputs that give you the option to view videos and photos and play music from a thumbdrive or external hard drive.