This year at CES 2017 TV tech updates from Samsung, Sony, LG were promising.  While no huge advances were made, there were incredible new flexible and transparent displays. Unfortunately, those just don't currently have a place in the consumer market.  Aside from that, we didn't see huge, new changes to technology. Rather, companies brought updates that will reach a wider audience in 2017.  Brands like Samsung, LG and Sony did bring out beautiful and impressive displays that we think consumers will really enjoy.
Samsung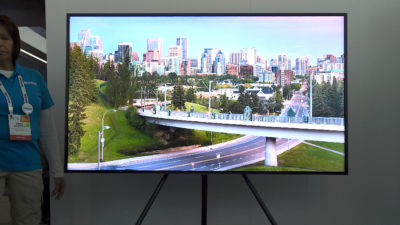 Despite the issues Samsung had in 2016 with it's cell phone products, the company was able to remain strong in the TV category.  For 2017, they will be presenting its Q LED TV.  Samsung is no stranger to Quantum Dot Technology. The Q line features a more refined Quantum Dot Technology within its models.  That means better brightness and color accuracy than previous models, leading to a beautiful picture and enjoyable viewing experience.
In addition to enhancing the overall viewing experience, Samsung is integrating the Samsung Smart View App.  The app will allow you to find your favorite shows or movies and control your TV in the same way that you would with the remote.  It aims to truly make home entertainment more integrated, upgrading the typical remote system consumers have been used to for so many years.  In utilizing such a responsive, updated app, users will find familiarity in a new way to navigate their TV.
Samsung Q LED TVs will begin hitting shelves in February of 2017.
Sony


The new Sony Bravia uses OLED technology in it's newest Bravia A1E Series.  Most noticeably, Sony has removed all speakers from the front, back and sides of its display, and has integrated them right into the display itself.  Yes, the speakers are actually built into the display. Sony has mounted four "acuators", similar to transducers used on certain flat loudspeakers, on the back of the panel. They have also embedded a 6cm subwoofer to further enhance the sound. Changing the traditional flatscreen TV speaker design has allowed the panel to remain super thin without compromise on incredible audio. Sony is really coming back into the TV market strong with the Bravia A1E Series.
LG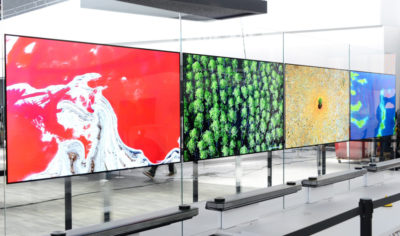 LG rolled out the LG OLED Signature W7 77-inch TV this year at CES. They decided to take remove the speakers and ports from the TV into a sound bar hub. The display and the hub connect together with a thin ribbon-like connection.
LG brought out its OLED Signature W7 77" TV this year. They took an entirely different approach than Sony in terms of speaker integration.  LG has removed the speakers and ports from the TV and place them into a soundbar hub.  The displace and soundbar connect together with a thin ribbon-like connection. Which means there is a separate component with ports that will need to be mounted or set on a tabletop next to the display.  The display, however, is now incredibly thin and can be mounted seamlessly onto a wall without any bulky mounts. This will be something that consumers either love or hate, but only time will tell.
While CES was not full of incredible technological advances in the TV department, it surely was not a disappointment, either. With new improvements like super-thin designs and speakers built right into displays, we can only imagine where technology will continue to take us.