LG 42LF5600 LED TV Review
The LG 42LF5600 LED TV (MSRP $499) is a 42-inch 1080p HD television.  It is this years version of LG's LB5600 from last year, and stays pretty true to that model's simple design and interface.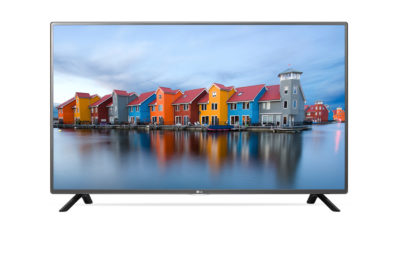 Unfortunately, we are seeing the same shallow contrasts and luminous black levels in the LF5600 model that were such a drawback in the LB5600 model from last year.  These two factors make it difficult for this model to perform well in dim or dark lighting.  The proprietary LG IPS panel offers great color and greyscale accuracy and brightness for well-lit rooms, but does not have the adaptability for those darker environments, say if you wanted to watch a movie in a dark room.  
Considering the price the LG 42LF5600 LED TV is being offered, it is a great value for a well-lit room.  If you're looking for something for a theatre setting, you'll want a TV with better contrast performance than what this model can provide.  Try the Sharp 43-inch LE653U or Samsung 40-inch J5500 instead.
Series Information
The LF5600 is available in two screen sizes, 32-inch (LG 32LF5600) and the 42-inch model reviewed in this article.  Both sizes offer full 1080p HD and 60Hz refesh rates.  The design, remote control, coloration, audio and video ports are all identical.
Users can expect very similar performance between the two sizes in the LF5600 series. 
Hardware & Software
The LF5600 keeps with the simple trend of sleek, minimal-yet-modern design with a charcoal finish.  The thin panel and bezels rest on two feet instead of the common pedestal seen on most entry-level designs.  This can make the TV difficult to place if you do not plan on mounting it to a wall. Buyers should ensure the surface they plan to rest their TV upon is at least 39 inches wide to support this model.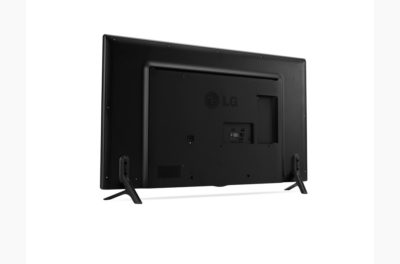 The back casing of this TV houses the side and rear-oriented audio/video ports.  There are two HDMI inputs, one USB 2.0 port, a digital audio out, shared composite jacks, RF (coaxial) input, and an RS-232C control port.  The lack of HDMI inputs can cause frustration, but that is an easy fix with an HDMI switcher.  The TV comes standard with a simple infrared remote control, whose design features rounded black plastic, brimming with buttons from edge to edge.  Large numerical buttons may be a plus for some, while others may find the "picture", "settings" and "menu" buttons repetitive, as they all take you to the same menu screen.
The simple menu layout is reflective of the simple aesthetic design, but it is filled with advanced setting controls and useful feathers ranging from picture modes, gamma selector, white balance controls and a full Color Management System.  It is great to have these featured packed into an affordable TV where the picture delivery performance is so important.  
There are no smart-TV features on this TV, but you will be able to playback photos, video, and music through a USB storage, but that is the extent.
Picture Quality
The LG 42LF5600 LED TV has a lot to offer in it's class of affordable LED TVs.  The clean, color-free grayscale shades are strong, and there is reliable color accuracy.  The wide horizontal viewing angle and bright highlights are other positives.  In well-lit environments, every viewing of news, sports and videos games will look great.
However, the LF5600 is not the best choice for dim or dark lighting. It does offer lots of brightness, the overall contrasts is poor due to luminous shadow tones. This is most easily noticed when you're watching film content with near black elements and details; the fade in shadows wash out.  You can choose to adjust the TV's gamma setting in order to brighten up shadow and midtones. Although, doing so can make for a rather unsatisfying dark-room viewing.  
This really won't be a problem if you do not plan to watch several dark movies. It would be a great option for a bright living space with lots of day-time use.  But it does still pose a bit of a drawback, since a TV should provide the entire package for you.  Some may also find issues with the motion performance.  With it's 60Hz panel, it may exhibit some blurring during fast-action scenes such as sports or action films, and even some PC games.  It does, however, produce reliable motion reproduction during most other broadcasts and Blu-ray playback.
Lastly,  the backlight uniformity was disappointing. Another low-light issue, the top and bottom edges of the screen gave flashlighting (backlight bleed) that was most apparent during shadowy content or when letterbox (16:9) black bars are on the screen. This won't be very visible if you're watching with lights on, but is quite visible in the dark.  It all comes down to when you watch TV the most.
The Verdict
The LG 42LF5600 LED TV is a great choice for many reasons. The IPS panel type gives wide viewing angles, good color production, clean neutral tones, and plenty of peak brightness. Most content looks great, as long as you're viewing in a well-lit room.
Turning off the lights to watch in darkness may leave you disappointed by the shadow production, especially if you're used to better black levels.
Contrast and low-light viewing is a large component of good picture quality and overall flexibility.  If you know you will be utilizing your TV during the day and at night, it may be worth considering other similar size options like Sony's R510C.