The big knock against Chromebooks is that their software options are limited. The Acer Chromebook R 13 is one of the first notebooks to avoid that problem, offering support for the Android apps in the Google Play store. Additionally, it has long battery life, a great keyboard and a sleek aluminum design. All a great value for a notebook under $400. As long as you don't need a lot of processing power, the Chromebook R 13 is a great choice.
Design
The Acer Chromebook R 13's aluminum body gives it an eye-catching look. The 1080p display rotates between laptop, display, tent and tablet positions on a pair of hinges that offer enough tightness to keep it feeling secure and stable.
The Chromebook R 13 weighs 3.2 pounds and measures 0.6 inches thick. This makes it thinner than a number of other laptops in this category.
Acer placed the R 13's USB Type-C port, HDMI port, USB 3.0 port and microSD card reader on the Chromebook's left side and the headphone jack and lock slot on the opposite side. The Type-C port is used primarily for charging, but it can support USB 3.1 data transfer as well.
Display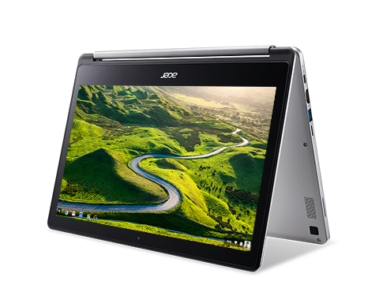 The Chromebook R 13's 13.3-inch, 1080p panel has crisp images but lacks in color and brightness.
The Chromebook R 13's panel displays only 64 percent of the sRGB spectrum. That's similar to some of the other Chromebooks on the market, from the Asus Chromebook Flip to the ThinkPad 13 Chromebook.
The Chromebook R 13's panel emits up to 254 nits (a measure of brightness), which is more than the average for thin-and-light notebooks (244 nits). It can stand to be bright, however, as darker images on the screen cause my reflection to surface in the screen.
Keyboard, Touch Screen, Touchpad
The Chromebook R 13's keyboard offers a lovely typing experience.  The convertible keys are responsive and work nicely. They feature 1.6 millimeters of travel and require 52 grams of force to press, which is very comfortable.
Between webpages and user interface, the screen had decent responsiveness. Chromebook R 13's 4.1 x 2.3-inch buttonless touchpad responded quickly and accurately. Two-finger scrolling was easy and without lag; depressing the pad provided a comfortable click.
Audio
As expected of most ultrabooks, the Chromebook R 13's speakers were not very loud. The R 13 produced high-pitched synths clearly, but took the punch from bass and vocals. 
Performance
The configuration of the Chromebook R 13 includes a  MediaTek MT8173C processor and 4GB of RAM.  This combination really doesn't offer enough for multitasking. It ran fast and smooth with just a few tabs open. However, there was noticeable lag while switching through sites after pulling up a 1080p streaming video and nine tabs open in Chrome.
The $399 Chromebook R 13 scored a low 59 on the JetStream benchmark for JavaScript performance. That's way below the average for thin-and-light notebooks (172).
Battery Life
Most noteworthy is the Acer Chromebook R 13's battery. Coming in with 11 hours on the Laptop Mag Battery Test. That's longer than the average for thin-and-light notebooks (7:52).
Webcam
The Chromebook R 13's 0.9-megapixel webcam shoots grainy images with poor color reproduction. When I tested it in our well-lit office, it made a red wall look orange and my purple shirt render as a mix of blue and gray.
Heat
The Acer Chromebook R 13 manages temperature well. After 15 minutes of HD video streaming temperatures on the touchpad, center keyboard and underside came in between a very comfortable 80.5 degrees Fahrenheit and 89 degrees.
The Chromebook R 13 runs Chrome OS. You will find you need an internet connection to do most things on it.  There is, however, the option to save documents offline through Google's apps such as Docs and Sheets.
Android Apps
One of the biggest standouts between the Acer Chromebook R 13 and other Chromebooks on the market, is that the R 13 runs Android apps. You will need to switch the notebook to the Beta updates channel to try out the Android apps. The apps perform best while used in windowed views.  It gives a warning that the apps "may not work well when resized", and certainly there was lagging when expanded into full-screen view.  What's interesting, is that the apps automatically expand to full-screen if the R 13 is folded into tablet mode, but there is no button to resize them back into windowed mode.  The only way to return is to unfold the tablet, which can be annoying.
Bottom Line
The Acer Chromebook R 13 is a very good ultra-portable laptop for the price. The integration of Android appls and the long-lasting battery makes this convertible laptop a great option for many. Productivity users or heavy multitaskers may find the R 13 lacking power, and should consider something with a more powerful processor.  However, if you are searching for a convertible Chromebook at an excellent price point, the Acer Chromebook R 13R 13 is certainly a great pick.