This McAfee AntiVirus Plus 2017 review discusses the new firewall protection features along several other security options.  The software can be installed on Windows, Mac, iOS and Android devices, a feature usually only found on suite-level software. The highlight of McAfee AntiVirus Plus 2017 is certainly the ability to protect every device in your home.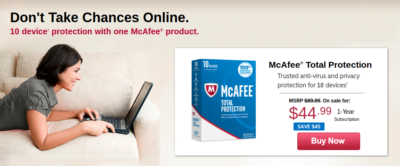 McAfee runs a bit more expensive than most antivirus software, at $89.99/year. Bitdefender AntiVirus Plus 2017, Norton, and Webroot are much cheaper, coming in at an average of $19.99.  Right now, McAfee is running a promo, offering the software at $44.99. The difference is that McAfee allows installation on every device (up to 10), regardless of OS, that you own.  That in itself outweighs the expense.
The installation process of McAfee antiVirus plus 2017 is easy, and requires minimal user interaction.  It installs automatically, and then it is ready to go.  The layout and overall interface have not changed much since the 2016 version. To install, you'll redeem your product key online and add it to your already existing McAfee account.  Once you do that, you can download the software locally, or send an email with the download link to a different device.  That is where the multi-device mode influences the installation of this particular product.
Virus Protection Pledge: This year, McAfee also offers a Virus Protection Pledge, which promises that if the software can not remove the malware, tech support will assist with remote diagnosis and repair.  If they still are not able to remove the virus, you'll get a refund.  To enable the Virus Protection you will have to enroll in the annual automatic renewal of the software, which is fair.  McAfee also makes 5-device and single-device options, coming in between $79.99 and $44.99, respectively.  Both versions on sale for $39.99 and $34.99.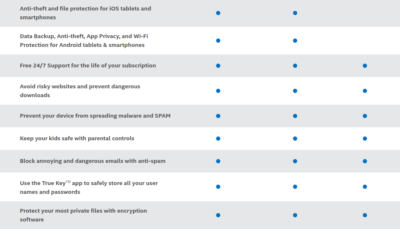 Real Protect: The 2017 version of McAfee uses a new virus detection and remediation engine called Real Protect, which uses behavior-based detection to minimize the local signature database to locate 0-day malware.  When the software encounters a potentially suspicious program, it sends data to the cloud for analysis, notes the behavior, and rolls back the malware activity if the cloud determines the program is malicious. A full scan of your PC can take anywhere from 30 minutes to an hour and a half, but that should not deter you, since you can continue to use your computer during the scan.
WebAdvisor: The WebAdvisor extension for McAfee's software was excellent.  It first would display a banner indicating that it was examining the download, then warned that the file was dangerous.  Since there are two layers of protection, the WebAdvisor as well as the real-time scanning software, this provides a second layer should the WebAdvisor OK a file that could be suspicious.  Since the two layers provide different security, it works out well in this case.  The WebAdvisor blocked 85% of the malware downloads we ran in our test. This is far superior than most virus scanners on the market today.
This edition of WebAdvisor also actively works to defend you from typosquatting websites (potential suspicious websites with deliberately misspelled names of popular websites).  It asks if you meant the corrected version of the site before taking you to any webpage. It will also work to mark search results as safe or dangerous using colored icons.  Websites that have been found by McAfee AntiVirus Plus 2017 to be extremely safe are marked with a special McAfee Secure icon. 
Phishing Protection: McAfee uses a common component to detect and block phishing sites, but the accuracy was less-than-perfect.  After our tests, McAffee was more than 40% behind the top anti-phishing software.  That is a far fall from last year's test when McAfee scored just two percent behind the top software.  The saving-grace will simply be to be sure your browser's phishing protection options are turned on.  McAfee can still certainly help if it catches fraudulent activity that the browser may have missed, but it's absolutely best to use both in tandem.
Firewall Included: Firewalls are notorious for putting the decision to "allow" or "block" unknown programs into the hands of users.  This proved to be a bad idea when users would click "allow" or "block" for the wrong items.  McAfee helps to stop this cycle. The firewall automatically assigns network permissions to programs that are known to be good. It will also continually scan for unknown programs and watch for changes.
Opening the Firewall settings will give you the ability to change the Traffic Controller settings from Smart Access to Monitored Access.  Most users should go ahead and leave the setting on Smart Access unless they are confident with knowing what to allow and what to block. There will be several different configuration options available including the ability to turn on Intrusion Detection, modify permissions and more.  
My Home Network: As previously mentioned, McAfee AntiVirus Plus 2017 gives you the option to install on all devices within your network.  In installing on multiple devices, My Home Network can monitor the protection on your kids computers.  My Home Network shows all of your devices and allows you to set up trust between two PCs.  Once trust is set, a user can remotely make changes the protection configurations.
Other Stand-out Features:
QuickClean scans your drives for broken shortcuts, fragments, temporary files and other junk that may be cluttering your system.  You can also add more categories for it to scan for such as memory image files. The option to have QuickClean scan your registry to delete cookies, cache files and browser history is also available.  QuickClean can be set up to launch on a schedule or you can start it manually.
Vulnerability Scan searches for missing security updates on Windows, scanning once a week.  You must give the scan permission to install any updates found. You also have the option to set it to install automatically or set it on a schedule.
File Shredder provides four levels of security with Basic, Safe, Comprehensive and Complete.  Any time you delete a file, it ends up in the Recycle Bin. Even when you empty the Recycle Bin, the file remains on your hard disk until another file overwrites it.
File Shredder can shred the Recycle Bin, temporary files, and other files of your choice.  The Basic level will create a single overwrite, while the Complete level will perform 10 overwrites.  There will also be a Shred option when you right click on files and folders, which is extremely useful.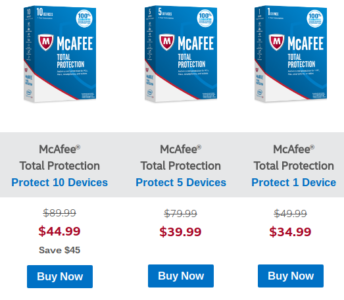 All versions of the 2017 software are on sale as of 1/10/2017, so it is a great time to purchase.  Head over to the McAfee Website to purchase your software.