Seagate Backup Plus Slim – 2TB External Hard Drive
External hard drive are simple, straight-forward devices, meant to provide a place to store digital data away from our computers.  Seagate  has created the Backup Plus Slim 2TB as an affordable, USB 3.0 powered, easy-to-use option for consumers.
The Seagate Backup Plus Slim includes Seagate Dashboard software. The software is a  desktop application with an intuitive backup-and-restore utility. As a result, the Seagate Dashboard can easily be managed by someone who has never before partitioned a drive.  It includes features that allow you to backup your devices like your phone or tablet, automatically save photos from social media applications, and create automated backups of folders linked to Dropbox or Google Drive accounts.
Furthermore, to create a backup of my phone, I plugged the Seagate drive to my computer and connected both to the same WiFi networking.  Next, I opened the Seagate Backup app on my phone, and selected which items from my phone I wanted to have backed up (photos, contacts, etc.). The process was so simple and took about a minute to complete.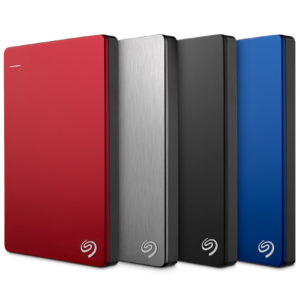 The Seagate Backup Plus Slim gets the job done.  For 2TB, it is thin, fast, portable and affordable.
There are over 4,500 customer reviews on Best Buy and Amazon combined, averaging a 4.5-star rating.  The Seagate Backup Plus Slim is one of the top recommended drives from PC Mag. CNET gave it an 8.3/10 Editors Choice rating.  Additionally, Seagate is also known to have excellent customer service.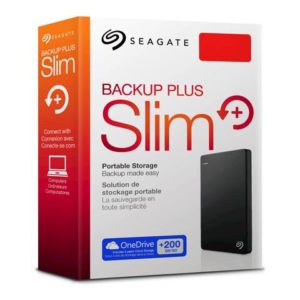 Who is it best for?
This drive is best for anyone who needs to free up space on their computer.  The easy-to-use software makes it great for students, professionals and average consumers alike.

This drive is perfect for those who need a lot of portable storage.  Photographers and videographers likely travel for work, and are often dealing with large files of data.  This drive is the smallest, more affordable drive with the largest capacity that you can find.

If you need a system-level backup of your laptop, this is a great choice for you.  Even the 1TB version of the Backup Plus would likely be enough space to backup your laptop.
Who should skip it?
Someone with sensitive data may want to consider skipping the Seagate Backup Plus Slim.  It does not come standard with a security utility, which means users would have to encrypt the data with a third-party software.  

Someone who needs a system-level backup of their desktop computer may also want to skip this drive.  2TB is a lot of space, but you may prefer a less-portable option that can offer you more space at a lower price.
How to best use it?
External hard drives are primarily used for one of three things: A complete backup of a computer or mobile device, creating extra storage space, or keeping personal data safe. Here are a few real-world scenarios that might help you decide how to fit an external hard drive into your workflow. 
For Photographers
Storing client photos and RAW image files

Freeing space on your primary work machine

Storing a backup of Adobe Lightroom or PhotoShop
For Students
Storing copies of notes, assignments, projects and papers in the event that your laptop is stolen or damaged
For Digital Photo Albums
The designated drive for all family photos and videos
For File Security
Keeping all personal confidential files on one drive