Logitech MX Anywhere 2 Mouse
Features:
Bluetooth and 2.4GHz wireless
6 Buttons
Ergonomic: No
Logitech Darkfield Laser Tracking
Unifying receiver
Easy-Switch tech
Gesture function
Pairs with three devices
Has a free-scrolling wheel
Non-removable battery
No wired option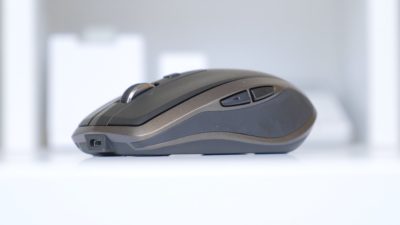 The MX Anywhere 2 is smaller, travel-friendly option from Logitech.  This mouse is a great fit for someone who travels frequently or someone with a smaller hand. The MX Anywhere 2 also has an incredibly precise sensor, making everything from browsing the internet to editing a photo so much more enjoyable than the traditional trackpad.
Additionally, it uses Bluetooth or 2.4Ghz wireless connection through Logitech's dongle and can connect with up to three devices.  
Especially noteworthy, is the great low-latency tracking. Logitech's Darkfield technology can be found in the MX Anywhere 2 which allows the mouse to be usable on most surfaces, including shiny surfaces.  This technology emits a second laser used to illuminate the dust particles on a transparent surface. The surface registers as being dark, and the dust is reflected brightly, making it appear like a dark field, hence the name. Furthermore, The sensor's sensitivity ranges from 400 to 1600 dots per inch which is standard. Like Logitech's MX Master, the scroll wheel spins freely once it has been pressed in, allowing easy scrolling.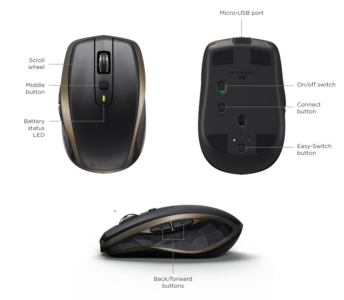 Another great feature is that the Anywhere 2 contains a non-rechargable battery, with up to 60 days of life on a single charge. Therefore, this mouse practical in addition to portable.  

Finally, the battery life, portability and wireless multi-device capability make this mouse is one of the best we have come across, especially for those who travel.